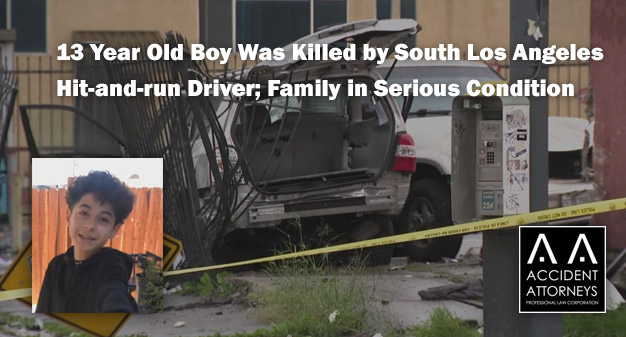 13 Year Old Chris Amaya-Pineda Was Killed by South Los Angeles Hit-and-run Driver; Other Family in Serious Condition
LOS ANGELES, CA (January 12, 2023) – Chris Amaya-Pineda–13 years old–was struck and killed in South Los Angeles by a hit-and-run driver. Other family members–including his two siblings and his mother–are in serious condition.
The January 9 crash occurred in the neighborhood of Broadway-Manchester, at 111th Place and Main Street.
The time was roughly a little before 8:00 a.m., Los Angeles Police said.
Chris was traveling with his family, and reports say they were on their way to the grandmothers' home.
According to authorities, a sedan that was traveling at a fast speed went through a light that was red and struck the vehicle Chris and his family were traveling in.
The force of the crash sent the family's vehicle into a vehicle that was parked, and a fence.
Following the crash, the hit-and-run driver fled the scene on foot, according to authorities, and his vehicle erupted in flames.
Chris died from his injuries.
His brother Damian, who is two years old, is on life support, reports say, and according to a family member, if he survives, he will likely be paralyzed.
Chris' sister Jade, who is 16 years old, survived the crash and she is being treated for her injuries.
Their mother, Deborah, who is 35 years old, is also being treated for the injuries she suffered.
Investigators are searching for the suspect hit-and-run driver.
If anyone has information about the crash, the person can contact Los Angeles Police.
The number is 877-275-5273.
---
---
Safe Driving Tips
Stay Focused on Driving
Don't allow distractions to interrupt your focus when you are driving. To stay focused on driving, do this:
Always keep your attention on your driving. Do not multi-task.
Do not use your phone while you are driving.
Drive the posted speed limit, and reduce your speed if conditions require–such as slippery roads, accidents on the roadway, etc. It takes time to react to a road hazard, and by slowing down, you give yourself a better chance of a safer outcome.
Practice Defensive Driving
Try to avoid getting into an accident. How?
Focus on your driving and pay attention to what other drivers are doing around you. If you see someone driving distracted, or a vehicle moving erratically, try to give yourself distance from that vehicle.
Don't follow the vehicle ahead of you closely. Give a few seconds of distance between your car and the car ahead.
Double that distance in bad weather, such as rain-slick roads.
If a car is following too closely behind you, change lanes if possible to allow that car to pass.
Have a Driving Plan
Giving yourself extra time when you plan to go somewhere will help reduce the urge to travel too fast.
Extra travel time will give you a cushion if you encounter traffic backups and slowdowns, or other delays on the roadway.
Plan travel stops on longer trips to give yourself time to use facilities such as restrooms. Give yourself time to stop and eat when you need to.
Exercise Caution and Safety
Prepare your vehicle for travel before you set out. Make sure items you are carrying in your vehicle are secure before you start to drive so they don't move around inside while you are driving.
2 If something falls on the floor, do not try to pick it up while you are driving.
3 Make sure everything you need while you are driving is reachable, such as toll cards and fees, and other passes.
Wear a seatbelt.
Drive sober.
Hire an Accident Attorney in Los Angeles
If you or a loved one has been injured in an auto collision, Accident Lawyer strongly encourages you to call our Los Angeles car accident lawyers. Your experienced Car Accident Lawyer Los Angeles will provide you with the best legal representation and guidance that you need. Our offices are conveniently located throughout California and we conduct regular travels in the region to meet with clients. Contact Car Accident Lawyer today.
Los Angeles Related Accident News
Los Angeles Pedestrian Struck and Killed on Normandie Ave.
Los Angeles Crash in Florence Area Involves Driver Fleeing Pursuit
Los Angeles Hit and Run Crash in West Athens Area Kills Man
Pedestrian Killed in South Los Angeles Hit and Run Crash Near Figueroa Street