AA Car Accident Attorneys
Over $150,000,000 collected*

Paul is a retired police officer with 20+ Years as an Injury Attorney

Your case will be backed by a firm with over 40yrs combined experience

We average a 98% success rate for our clients!

If we don't win – you DON'T pay!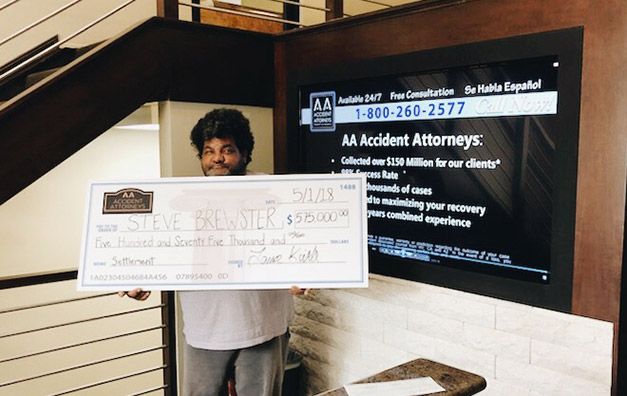 *The result for each was dependent on the facts of that case and the results will differ if based on different facts, this does not constitute a guaranty, warranty or prediction regarding the outcome of your case.
We Will Defend your Rights
If you've been injured in an accident as a result of the negligence or wrongdoing of another person, organization, government agency, or other entity, you have legal rights. At AA Accident Attorneys, our team of personal injury lawyers will fight to protect those rights. We have over 40 years of combined experience representing accident victims just like you. 
We can guide you through the entire legal process, file your claim, and protect you from harassing phone calls from insurance companies looking to limit what you receive while you focus on the treatment of your injuries. We can connect you with medical professionals trained to treat your specific injuries, and even provide financial support should you be unable to return to work as a result of the damages you've suffered.
No need to drive to our office, we will come to your home/office/hospital/local coffee shop to meet with you personally! You're our client – and we take care of our clients!
INJURED IN AN ACCIDENT? WE CAN HELP!
Have you or someone you know been injured in an accident? If so, you may have the right to pursue legal action. Depending on the circumstances that surround your accident, you may be entitled to compensation from those at fault to help cover the cost of the damages you've suffered, both physically and psychologically.
In personal injury cases, compensation can be difficult to accurately calculate. There are several factors that can be incorporated into what an accident victim can recover, including the cost of hospital visits, surgeries, physical therapy, prescription medications, rehabilitation, pain and suffering, and more. You may also be able to recover wages lost from time spent away from work, or from a loss of future earning potential, if your injuries prevent you from returning to work.
On your own, you may be unable to recover what you are rightfully owed, as insurance companies will work to limit what you receive. With the help of legal representation however, you will gain the best opportunity to receive everything that you need to get back on your feet. To learn more about what a personal injury lawyer can do for you, call us today at 800-260-2577.
$4,950,000 from negligent big rig trucking company causing wrongful death.*
$ 4,000,000 Negligence resulting in burns.*
$ 2,000,000 from Security Company for Negligent Security Protection Public on Commercial Property.*
$ 2,000,000 Negligent hiring, supervision – Crane truck tipped over while lowering an A/C unit severely injuring worker.*
$ 2,000,000 from Government Entity for Failure to Protect the Welfare of the Public.*
$ 1,500,000 Recovered for Passenger Involved in an Automobile Accident in San Bernadino County.*
$ 750,000 recover for injured driver involved in auto accident with tractor trailer.*
$ 1,850,000 Recovered from Trucking Company for Negligent Hiring related to Auto Accident.*
AA-Accident Attorneys, a Professional Law Corporation, was founded by Paul Lee, Esq. Upon graduation from law school and becoming an attorney in 1994, Paul Lee began working with an employment law firm specializing in representing police officers. Later he worked for an insurance defense firm representing various insurance companies. After seeing, first hand, how insurance companies handled various personal injury claims related to personal injuries he decided that he needed to represent the injured parties to ensure that they were represented fairly . He formed what is now known as AA-Accident Attorneys, P.L.C. Under his leadership, AA-Accident Attorneys, P.L.C., has grown from a local specialized personal injury law practice to a law firm of national prominence, skilled in all areas of civil and tort law. This growth and reputation was built primarily on the dedication, vision, and efforts of Paul Lee and his team of attorneys and staff. In addition, Paul Lee is associated with one of the largest law firms in the nation by volume of cases settled. The sole focus of our auto accident attorney is the representation of seriously injured individuals. Our attorneys, and their staff, are aggressive and feared by insurance companies and their law firms. We lead our clients through the legal and financial maze of modern civil law on their way to recovery from the damage suffered at the hands of negligent and guilty parties.