Saul Delgado Arrested in DUI 2-Car Accident near Santa Fe Avenue In Vista, CA
Vista, CA (April 18th, 2023) – A San Diego man is facing DUI charges following a two-car accident near Santa Fe Avenue and California Avenue on Monday. Saul Celerino Villanueva Delgado, 33, was arrested after he crashed his blue Audi into a median fence and then collided with a Nissan SUV.
CHP Notice Delgado Driving at a High Rate of Speed Before Crash
The incident happened around 2:30 p.m. when a deputy from the Vista Sheriff's Station was patrolling the area near Vista Village Drive and Santa Fe Avenue. The deputy noticed Delgado's Audi driving at a high rate of speed and attempted to catch up with the driver. However, the Audi driver made an illegal U-turn and ran a red light before losing control and crashing into the median fence and SUV.
Paramedics arrived at the scene and transported the two occupants of the Nissan SUV and Delgado to a nearby hospital for treatment. Following the incident, Delgado was arrested for driving under the influence of alcohol.
The San Diego County Sheriff's Department has called on anyone who has more information regarding the accident to contact them.
Don't Drink and Drive
Driving under the influence of alcohol is a serious offense that poses a risk not only to the driver but also to other road users. According to the National Highway Traffic Safety Administration (NHTSA), 10,142 people died in drunk-driving crashes in 2019, accounting for 28% of all traffic-related deaths in the United States.
Alcohol impairs an individual's judgment, motor skills, and reaction time, leading to irresponsible and senseless decisions. Therefore, it's important to plan for a safe ride if you plan on drinking. You can opt for a designated driver, public transportation, or a taxi service to avoid driving while intoxicated.
---
---
Hire an Accident Attorney Near Vista, CA
Accident Lawyer urges you to contact our car accident lawyers near Vista if you or a loved one has been injured in an auto collision. Your experienced Car Accident Lawyer will provide you with the best legal representation and guidance that you need. Our offices are conveniently located throughout California and we conduct regular travels in the region to meet with clients. Contact Car Accident Lawyer today.
Recent Accident News Near Vista, CA
Crash on I-905 near Otay Mesa Kills One, Seriously Injures Two in San Diego
San Diego Pedestrian Struck and Seriously Injured in Redwood Village
Woman Walks across El Cajon Blvd. in San Diego and is Killed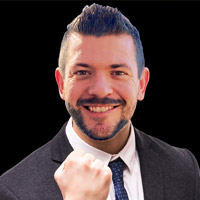 John Arends has been working as a At Law Attorney at AA Accident Attorneys for 7 years. AA Accident Attorneys is part of the Law Firms & Legal Services industry, and located in California, United States.
The Accident Attorneys Group is a leading personal injury firm serving the State of California. The firm always has a seasoned Uber accident lawyer and Lyft accident lawyer on call.
Bachelor of Criminal Justice – 3.1
San Diego State University-California State University
Chapman University, School of Law
Doctor of Jurisprudence –
Advocacy and Dispute Resolution Emphasis
Chapman University, School of Law