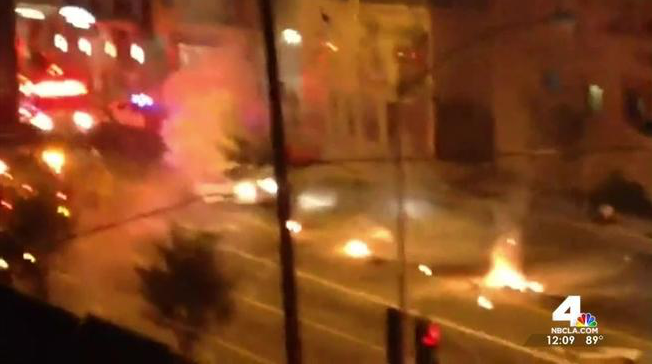 A high-speed police pursuit ended when a Tesla Model S crashed and split in half after striking a light pole. The crash happened early Friday morning. The driver was left in critical condition, while two officers were hospitalized with non-life threatening injuries.
Speeds reached 100 mph as the stolen Tesla Model S attempted to evade the police. Four other people were also hospitalized. Debris was scattered throughout the 1200 block of North La Brea Avenue.
The Tesla, which was stolen from a Tesla store, crashed into a Honda before striking the light pole. Five people were in the Honda. Half of the Tesla remained in the street on fire, while the other half wedged itself into the entrance of a synagogue.
"I have never seen half of a car wedged into a building before," said Sheriff's Lt. Michael White in an interview with NBC Los Angeles.
"Everybody who was looking was screaming," said witness Francisco Estrada. "They tried to help but there was too much smoke."
The pursuit started when police tried to pull the stolen Tesla over around 12:50 a.m.
For a free consultation with a top accident lawyer please call AA-AccidentAttorneys at 800-260-2577.
Source: NBC Los Angeles