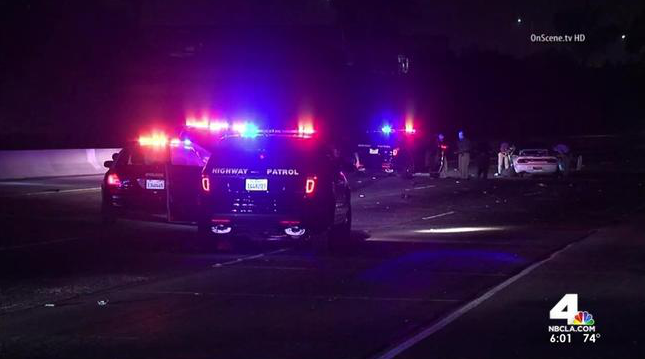 A crash took the life of a 19-year-old man early Saturday morning. A wrong-way driver, suspected of being under the influence of drugs or alcohol, collided with the young man's car on the westbound 210 Freeway in Azusa.
The man, Justin room of El Monte was killed while his 16-year-old passenger received moderate injuries. The passenger was taken to County-USC Medical Center, according to the California Highway Patrol.
The crash happened around 3:10 a.m. west of Vernon Avenue. The black Honda Accord collided with Romo's white Nissan 240SX, with both cars traveling about 75 mph.
The driver of the Honda Accord has been identified as Tyler Thompson, 24, who fled the scene on foot, according to the California Highway Patrol. He was found a few hours later around 5:30 a.m. Saturday.
"We found some ID in the car that was headed the wrong way and followed up, along with Azusa officers, and arrested the driver," California Highway Patrol Officer Ron Warrior told reporters at the scene.
Thompson has been arrested on suspicion of driving under the influence of alcohol or drugs.
"So please take the keys away from anybody that you see that's drunk from a party, always have a designated driver," said Romo's mother Lupe Garcia in an interview.
"He had a long life to live and unfortunately he had to die like this, I can't believe it," said Marlene Garcia in an interview. "You know, it's so unfortunate. I miss my brother already like crazy. I'm taking it so hard.
For a free consultation with a top accident lawyer please call AA-AccidentAttorneys at 800-260-2577.
Source: NBC Los Angeles