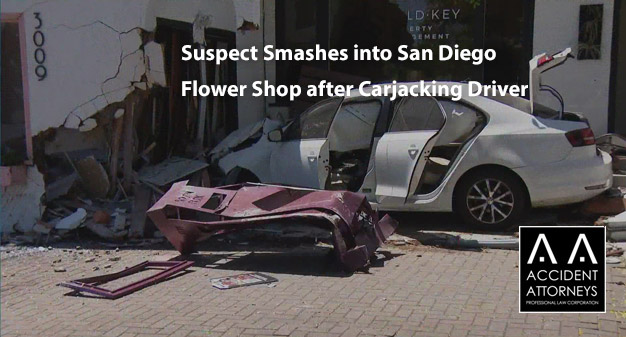 SAN DIEGO, CA (June 8, 2022) – Late in the evening on Monday in San Diego, a suspect smashed into a flower shop after carjacking a delivery driver. The June 6 incident occurred in the South Park area.
According to authorities, a person who was delivering for DoorDash saw a woman enter his vehicle to steal it. The delivery driver launched himself onto his car's roof while the suspect drove away.
As the suspect continued to drive the stolen vehicle, the delivery driver fell from the car.
The suspect's flight ended in South Park, where she smashed into Native Poppy, a flower shop. According to police, the suspect fled the scene of the crash on foot.
Authorities located her hiding in a canyon; she was taken into custody.
Responders transported the delivery driver who fell from the car to a hospital in the area. The types of injuries he suffered are not known, nor is his current condition.
His identity has not been reported.
The identity of the suspect is also not known from reports.
Investigators are continuing their work on the incident.
---
---
Hire an Accident Attorney in San Diego
If you or a loved one has been injured in an auto collision, Accident Lawyer strongly encourages you to call our San Diego car accident lawyers. Your experienced Car Accident Lawyer San Diego will provide you with the best legal representation and guidance that you need. Our offices are conveniently located throughout California and we conduct regular travels in the region to meet with clients. Contact Car Accident Lawyer today.