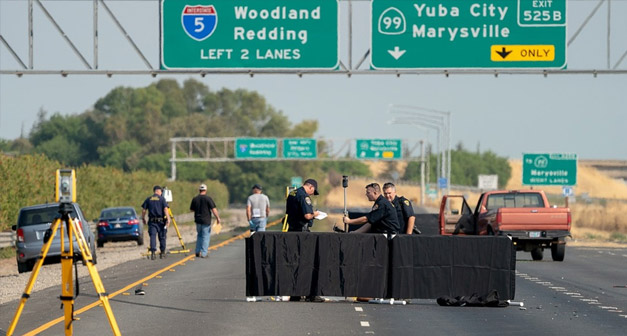 Sacramento, CA August 11, 2018) – Authorities have identified 2 men who were killed following a deadly road rage fight on California Interstate 5 Freeway in Sacramento earlier this week. The incident occurred sometime either late Friday night or early Saturday morning when 2 men, now identified as 39-year old Sacramento resident Jason Dykes and 37-year old Oroville resident Jose Rodriguez-Carrasco, had both their vehicles collide into each other near Arena Boulevard in the northbound lanes of the 5 freeway. Both drivers then continued to a spot near Del Paso Road where they both exited their vehicles and began to fight. According to police Rodriguez-Carrasco had beat Dykes with a bat. Rodriguez-Carrasco was subsequently struck by a passing vehicle and killed. 2 eyewitnesses who had dash cameras rolling during the altercation describe what they saw, "honestly, it shocked me because I would never expect such a thing to happen. People get into accidents every day," said the person witnessed the aftermath.
"We're all insured; simply have the insurance worry about it. Why would you hurt another person? It's just ridiculous." Another driver who was headed to the Sacramento International Airport captured images of Rodriguez-Carrasco lying in the freeway. "Oh my God," he can be heard saying in his dashcam recording, "a person lying down in the street." The witness, who did not want to reveal his identity told authorities, "Honestly, since I seen the body it has not left my mind. It's kind of a very scary situation and got me concerned." The driver who struck Rodriguez-Carrasco remained on the scene until first responders arrived. Both men were pronounced dead at the scene and were transported to Sacramento County Coroner's office. Police say they do not suspect the driver who struck Rodriguez-Carrasco of impairment.
---
---
Find A Sacramento Accident Lawyer Near You
If you or a loved one has been injured in an auto collision, AA-Accident Attorneys P.L.C. strongly encourages you to call our car accident attorneys at (888) 607-1425 for a free consultation. Our highly skilled and experienced attorneys will provide you with the best legal representation and guidance that you need. Our offices are conveniently located throughout California and we conduct regular travels in the region to meet with clients. Reach out to us directly to speak with a car accident attorney whenever you need one!
The driver who hit the homicide suspect stayed at the scene and spoke with investigators. The CHP has not yet clarified if that person will face charges.