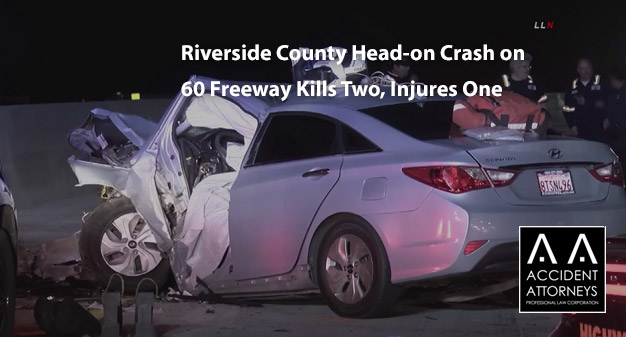 RIVERSIDE COUNTY, CA (April 25, 2022) – Early in the morning on Saturday in Riverside County, a head-on crash on the 60 Freeway killed two people and injured one person. The April 23 crash occurred on the westbound side of the roadway, in the area of the Badlands.
The time was roughly 3:35 a.m., according to the California Highway Patrol.
Authorities said a vehicle–described as a Hyundai Sonata–was traveling eastbound in the lanes that head west. The wrong-way driver collided head on with a vehicle–described as a Chevrolet Malibu.
Responders pronounced the person who was driving the Chevrolet, and the person who was driving the Hyundai, deceased at the crash site.
The Chevrolet's driver was identified only as a resident of Pasadena, 49 years old. The person's name has not been reported.
The Hyundai's driver was identified as a resident of Hemet, 28 years old. Her name is also not known from reports.
Responders transported a person who had been traveling as a passenger in the Chevrolet to a hospital in the area. The patient suffered injuries that were described as moderate.
The patient was identified only as a resident of Pico Rivera, 40 years old. The person's name has also not been reported.
Investigators are continuing to work on the crash. If anyone has information about the collision, the person can call Jason Montez, who is a Public Information Officer.
The number is 909-769-2000, ext. 221.
Calls can also be made to 916-407-7511.
---
---
Hire an Accident Attorney in Riverside County
If you or a loved one has been injured in an auto collision, Accident Lawyer strongly encourages you to call our Riverside County car accident lawyers. Your experienced Car Accident Lawyer Riverside County will provide you with the best legal representation and guidance that you need. Our offices are conveniently located throughout California and we conduct regular travels in the region to meet with clients. Contact Car Accident Lawyer today.