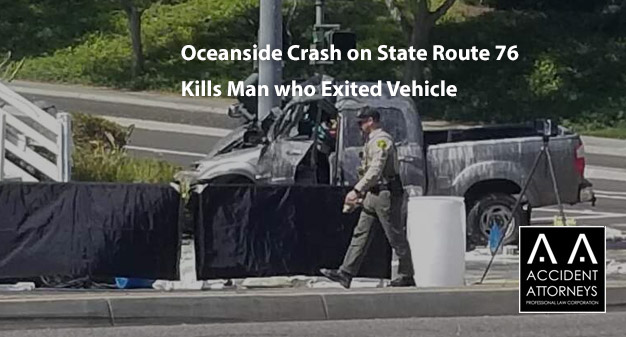 OCEANSIDE, CA (June 20, 2022) – Early in the morning on Saturday in Oceanside, a crash on State Route 76 killed a man. The June 18 crash occurred on State Route 76 on the westbound side of the roadway, close to Douglas Drive and to the west of it.
The time was roughly 1:28 a.m., Oceanside Police said.
According to authorities, the victim had stopped on the shoulder of the freeway, for reasons that are not known. A witness reported seeing the man down the ground.
Reports say a person who was driving saw the man down in the middle of the road. The driver tried to miss striking the man, reports say, but hit him.
The driver who struck the man while he was down on the ground pulled over, stopped, and called for help, reports say.
Responders arrived at the crash site and found the victim down on the roadway. They pronounced him deceased at the crash site.
His identity, including name, age, and city of residence, has not been reported.
The witness who reported seeing the man on the ground, and the driver who struck the man while he was down on the ground, have not been identified.
Reports do not say if a driver who is suspected of initially striking the man has been located.
Investigators are continuing to work on the crash. If anyone as information about the incident, the person can call investigators.
The number is 760-435-4412.
---
---
Hire an Accident Attorney in Oceanside
If you or a loved one has been injured in an auto collision, Accident Lawyer strongly encourages you to call our Oceanside car accident lawyers. Your experienced Car Accident Lawyer Oceanside will provide you with the best legal representation and guidance that you need. Our offices are conveniently located throughout California and we conduct regular travels in the region to meet with clients. Contact Car Accident Lawyer today.