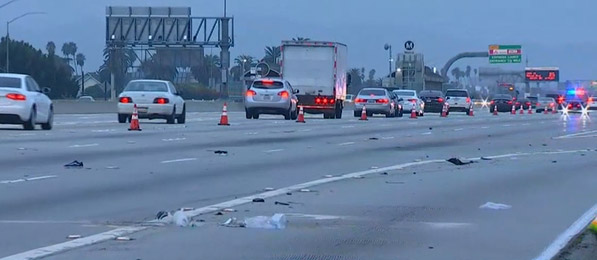 Los Angeles, CA (October 14, 2018) – The California Highway Patrol is investigating the death of a 25-year-old motorcyclist who was struck and killed by a hit-and-run driver as well as other collisions early Sunday morning, October 14th, on the 110 Freeway. The incident occurred when a box truck merged into the lane of the motorcyclist, who was thrown from his bike to avoid the truck in his path. The motorcyclist was then struck by multiple cars and dragged underneath the box truck for 200 yards, CHP said. The unnamed 25-year-old man was killed at the scene. Authorities are continuing to search for not only the box truck hit-and-run driver, but also others involved that struck the motorcyclist that fled the scene. Officials closed all of the main northbound lanes of the 110 Freeway during investigations of the crash.
---
---
Find A Los Angeles Motorcycle Accident Lawyer Near You
If you or a loved one has been injured in an auto collision, AA-Accident Attorneys P.L.C. strongly encourages you to call our car accident attorneys at (888) 607-1425 for a free consultation. Our highly skilled and experienced attorneys will provide you with the best legal representation and guidance that you need. Our offices are conveniently located throughout California and we conduct regular travels in the region to meet with clients. Reach out to us directly to speak with a car accident attorney whenever you need one!