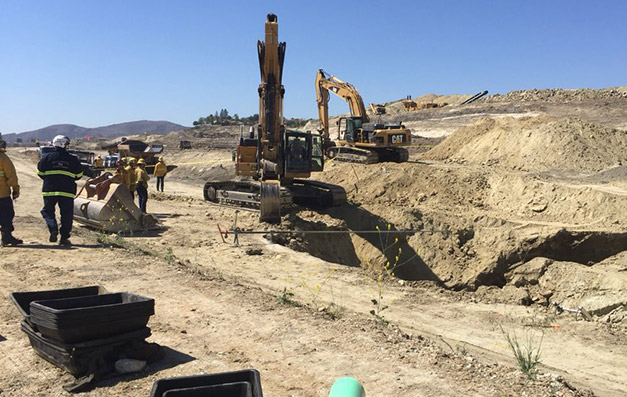 Worker Killed in Trench Collapse at Construction Site in Lake Forest
Lake Forrest, CA (May 10, 2018) – Orange County Fire Authority uncovered the remains of a worker who was killed at a construction Site in Lake Forest after a deep trench collapsed and buried the worker, Wednesday May 9th. The incident occurred at the Portola Center construction site located near Glenn Ranch Road and Viejo Ridge Drive in Lake Forest as 3 dozen construction workers toiled to build the new 930 home community. The 17-foot by 10-foot tall trench was being excavated sometime around 3 p.m. when for reasons unknown 1 side of the trench sloughed off caving in on the worker which resulted in his death. Fire and rescue crews carefully dug for 6 hours to recover the victim's body. Coworkers of the buried man remained at the scene until the man's body was recovered.
OCFA Capt. Larry Kurtz said, "Firefighters assembled heavy equipment for the recovery including tractor trucks and a trench shield. The shield is a big steel box that will secure the side of the trenches and enable firefighters to work the bottom of the trench, safely." The California Division of Occupational Safety and Health and the Orange County Sheriff's Department were investigating the circumstances of the accident and whether the worker had either fell inside or was acting as a spotter and was buried and for the cause of the trenches collapse.
If you or a loved one has been injured in an auto collision, AA-Accident Attorneys P.L.C. strongly encourages you to call our car accident attorneys at (888) 607-1425 for a free consultation. Our highly skilled and experienced attorneys will provide you with the best legal representation and guidance that you need. Our offices are conveniently located throughout California and we conduct regular travels in the region to meet with clients. Reach out to us directly to speak with a car accident attorney whenever you need one!
Photo Credit:
https://twitter.com/OCFA_PIO/status/994343132782247937/photo/1?tfw_creator=ktla&tfw_site=ktla&ref_src=twsrc%5Etfw&ref_url=http%3A%2F%2Fktla.com%2F2018%2F05%2F09%2Fo-c-firefighters-respond-to-trench-collapse-at-construction-site-in-lake-forest%2F