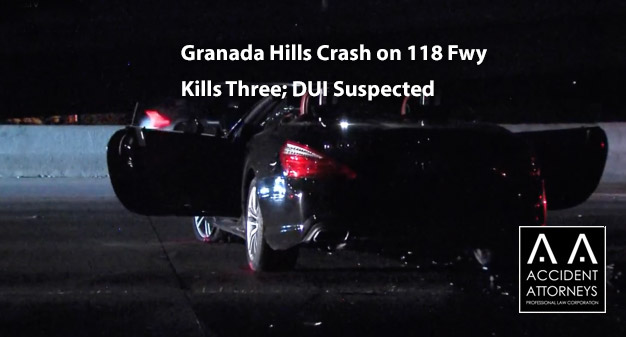 GRANADA HILLS, CA (May 17, 2022) – Late at night on Saturday, a crash in Granada Hills killed three people. The May 14 crash occurred on the 118 Freeway where the transition to the 405 Freeway is located.
The time was roughly a little before midnight, the California Highway Patrol said.
According to authorities, a vehicle–described as a Mercedes sedan–was stopped in the far right-hand lane on the transition road to the 405 Freeway southbound.
The reason why the sedan was stopped in not yet known, according to authorities.
A second vehicle–described as a Mercedes coupe–struck the stationary Mercedes sedan.
The impact of the crash sent the sedan to crash into a wall. The sedan erupted in flames.
The coupe came to a stop on the 118 Freeway, reports say.
Responders pronounced the three people who were inside the burning sedan deceased at the crash site.
The identities of the three people, including names, ages, genders, and cities of residence, have not been reported.
Responders transported the person who was driving the coupe to the hospital. The person suffered injuries that were described as major.
His current condition is not known. He was identified only as a resident of Glendale.
He name and age have not been reported.
Investigators suspect the driver of the coupe was DUI at the time of the crash. Investigators are continuing their work to collect details and information.
---
---
Hire an Accident Attorney in Granada Hills
If you or a loved one has been injured in an auto collision, Accident Lawyer strongly encourages you to call our Granada Hills car accident lawyers. Your experienced Car Accident Lawyer Granada Hills will provide you with the best legal representation and guidance that you need. Our offices are conveniently located throughout California and we conduct regular travels in the region to meet with clients. Contact Car Accident Lawyer today.