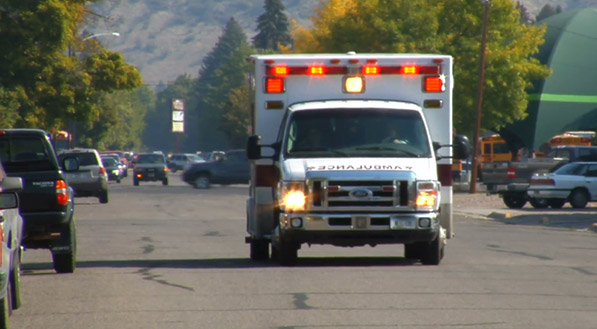 Lemoore, CA (October 12, 2018) – California Highway Patrol investigated a crash that left three people injured after their vehicle rear-ended a Freightliner truck Wednesday, October 10th. The incident occurred shortly after 11 a.m., when CHP officers responded to a report of a traffic collision on State Route 41, south of Elgin Avenue in rural Lemoore.
Officials determined that a 36-year-old Lemoore man driving a 1997 Freightliner on Elgin Avenue and made a right turn onto the southbound Route 41. At the same time, a 21-year-old Texan man was traveling southbound on Route 41 at approximately 65 mph, CHP said. The man looked back distractedly to his 21-year-old wife and 2-year-old daughter, both of whom were not wearing seatbelts. Officers said the man was not immediately aware of the Freightliner directly in front of his vehicle, and rear-ended it. Due to the lack of seatbelt usage, the daughter was thrown forward into the back of the front passenger seat and the woman was ejected from the vehicle through the front windshield, CHP said.
All three members of the family were transported to a local hospital with major injuries. The driver of the Freightliner was not injured, according to officials. Officers do not believe impairment to be a factor, and are continuing to investigate the crash.
---
---
Find A Lenmore Car Accident Lawyer Near You
If you or a loved one has been injured in an auto collision, AA-Accident Attorneys P.L.C. strongly encourages you to call our car accident attorneys at (888) 607-1425 for a free consultation. Our highly skilled and experienced attorneys will provide you with the best legal representation and guidance that you need. Our offices are conveniently located throughout California and we conduct regular travels in the region to meet with clients. Reach out to us directly to speak with a car accident attorney whenever you need one!