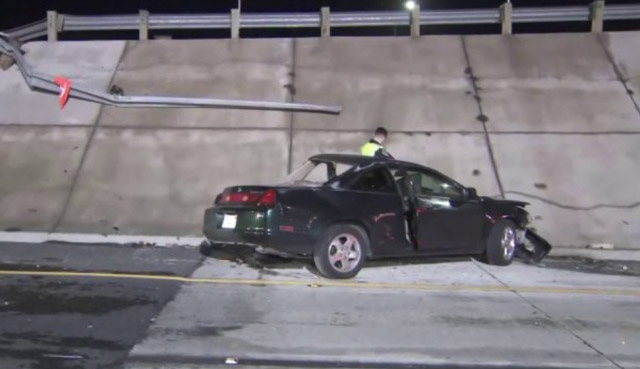 Palms, CA (December 6, 2018) – A driver is in critical conditions after losing control of their vehicle and driving off the side of a rain-slicked piece of the 405 freeway late Thursday evening December 6th. The accident took place in Palms, a neighboring city in Los Angeles, at 8:30 p.m. The dark 2-door coupe was traveling on the freeway when it slammed into a guardrail on the right hand shoulder and wound up going over an embankment. Although the California Highway Patrol logs state the vehicle had landed in a Ralph's parking lot, CCTV footage shows the vehicle actually landed along the off-ramp at National Blvd which is near- but not in the Ross parking lot at 3033 S. Sepulveda Blvd. Fire crews were able to extricate the driver from the vehicle. The driver was transported to a nearby Trauma Center and was listed in critical conditions by medical staff. There has not been any information on the driver other that they were later listed in minor conditions at the Ronald Reagan UCLA Medical Center in Westwood. There was a passenger involved; as far as we know, they walked away with only some scratches. It is still unknown if drugs or alcohol were factors in this incident.
---
---
Find A Palms, CA Accident Lawyer Near You
If you or a loved one has been injured in an auto collision, AA-Accident Attorneys P.L.C. strongly encourages you to call our car accident attorneys at (888) 607-1425 for a free consultation. Our highly skilled and experienced attorneys will provide you with the best legal representation and guidance that you need. Our offices are conveniently located throughout California and we conduct regular travels in the region to meet with clients. Reach out to us directly to speak with a car accident attorney whenever you need one!