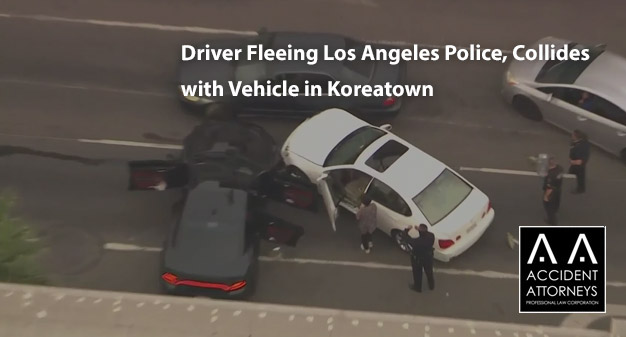 LOS ANGELES, CA (September 24, 2021) – Early in the evening on Thursday in Los Angeles, a driver who was fleeing police pursuit collided with a vehicle in the Koreatown neighborhood. The September 23 crash occurred where Olympic Boulevard and Normandie Avenue intersect.
The time was roughly a little after 6:10 p.m., the Los Angeles Police Department said.
According to authorities, officers began pursuit of a vehicle–described as a Dodge, black in color–on Western Avenue in the Hollywood area. Reports say officers commenced the pursuit because of a report that someone may have had a gun.
The driver of the Dodge drove away from police, traveling at fast speeds and, at certain points, traveling against the direction of traffic, according to reports. The Dodge collided with another vehicle–which has not been described–in the Olympic Boulevard and Normandie Avenue vicinity.
The occupants of the Dodge exited the vehicle and ran from the crash site, according to reports. They were apprehended by police.
None of the occupants of the Dodge, including the driver, has been identified in reports.
Reports also do no identity the occupant or occupants of the other vehicle that was involved in the crash.
It is not known if anyone was hurt in the crash.
Investigators are working to collect information about the incident.
---
---
Hire a Car Accident Attorney in Los Angeles
If you or a loved one has been injured in an auto collision, the AA Accident Attorneys strongly encourage you to call our Hollywood car accident lawyers. Your experienced Car Accident Lawyer Hollywood will provide you with the best legal representation and guidance that you need. Our offices are conveniently located throughout California and we conduct regular travels in the region to meet with clients. Contact Car Accident Lawyer today.