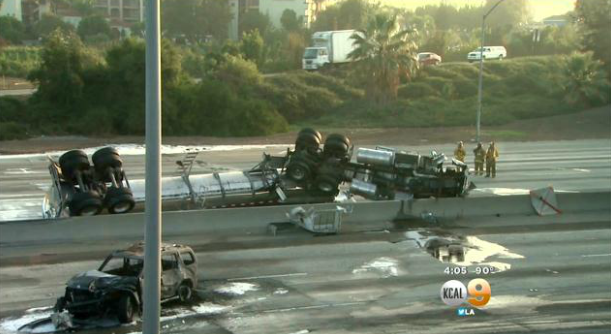 Two major accidents occurred in San Francisco August 1, 2014 around 1:30 p.m. The two accidents occurred within minutes of each other. One involved two dump trucks and a Muni 38 Geary bus. Both involved San Francisco Municipal Railway vehicles.
Shortly before 1:30 p.m. a westbound dump truck slammed on the brakes in front of a bus, according to the report of St. Danielle Newman.
The Muni bus put on its brakes and attempted to avoid the dump truck and consequently hit another dump truck.
Twenty people were injured. Twelve were taken to San Francisco General Hospital for non-life threatening injuries. Eight sustained injuries that did not require hospitalization.
The accident closed westbound Geary Boulevard for two and a half hours. Geary Boulevard was re-opened at approximately 4:00 p.m.
Fault has not been determined for the accident.
At 1:36 p.m. an 18-wheel big rig struck a Muni bus at Third and Innes streets. This was the second accident.
The truck turned illegally on to Innes street. The train was going north on Third Street.
The train derailed, reported Officer Albie Esparza.
Eleven people were injured seriously enough to be taken to the hospital. Nine persons sustained injuries that did not require hospitalization.
Third Street was closed from Jerrold to Hudson avenues. The closure affected the evening commute.
Help was sent to injured persons in the accident between the truck and the Muni bus.
An investigation is being conducted in the second accident.
For a free consultation with a top accident lawyer please call AA-AccidentAttorneys at 800-260-2577