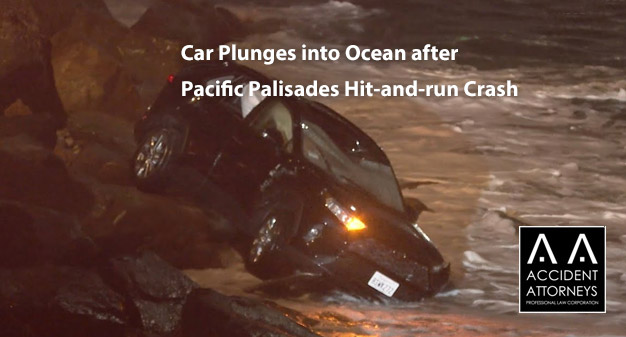 PACIFIC PALISADES, CA (March 18, 2022) – Late at night in Pacific Palisades, a car plunged into the ocean after a hit-and-run crash on West Pacific Coast Highway. The crash occurred in the 17300 block.
The time was roughly a little before 10:00 p.m., Officer Madison said. Madison is with Los Angeles Police.
As many as three vehicles may have been involved in the crash. According to Madison, the third vehicle was not at the crash site when responders arrived.
One of the vehicles plunged into the ocean. According to Supervisor Pittman, who is with Los Angeles County Fire, the occupant or occupants of the vehicle that went into the water either exited before the vehicle went in, or not long after.
Responders did not find anyone in the vehicle.
None of the vehicles involved in the crash have been described.
According to authorities, two people were arrested in connection with the crash. The identities of the two suspects have not been reported.
No one else involved in the crash has been identified, and reports do not say if anyone was hurt.
Investigators are working to understand how the crash happened, what led to the crash, and the circumstances that may have been contributed.
---
---
Hire an Accident Attorney in Pacific Palisades
If you or a loved one has been injured in an auto collision, Accident Lawyer strongly encourages you to call our Pacific Palisades car accident lawyers. Your experienced Car Accident Lawyer Pacific Palisades will provide you with the best legal representation and guidance that you need. Our offices are conveniently located throughout California and we conduct regular travels in the region to meet with clients. Contact Car Accident Lawyer today.