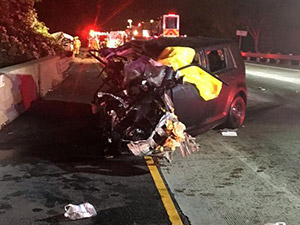 July 27th ─ 2 men, a woman and a dog were killed after a wrong-way driver sped at speeds around 100 mph into oncoming traffic and slammed into another vehicle on the 101 Freeway in Ventura early Thursday morning. The incident occurred just after midnight when a California Highway Patrol officer witnessed a Toyota Scion getting on the freeway in the wrong direction traveling north on the southbound lanes of the 101 freeway near Oxnard Boulevard. The officer called for more units and jumped onto Highway 101 north, trying to keep pace with the Scion as is it traveled. The driver of the Toyota Scion nearly struck another California Highway Patrol officer's cruiser a few miles down the freeway before slamming head-on into a Nissan Versa. The wreck occurred near the Seaward Avenue exit of the 101 Freeway north of the 126 interchange. Crews with the city of Ventura Fire Department responded to the high-speed head-on crash and found both cars were mangled. The Nissan Versa went over a guardrail and the Toyota Scion came to a rest about 50 yards north of the crash. CHP identified the wrong way driver of the Scion, as a 34-year old man out of Santa Paula, he was pronounced dead at the scene. The two occupants of the Versa, a 25-year old male driver and a 28-year old female passenger, both from Lake Elsinore, died at the scene as well. A dog also died in the crash.
CHP Sgt. Tom Webster said, "In these early morning crashes, around the time people are leaving bars, my suggestion is always drive in the right-hand lanes unless you're passing another vehicle. Many times, these drivers use the No. 1 lane, believing they are probably in the slow lane". The crash remains under investigation by the Ventura Area CHP Office. It is yet to be determined if alcohol or drugs played a factor in the crash. Anyone who witnessed the crash is asked to call the Ventura Area CHP at 805-662-2640.
If you or a loved one has been injured in an auto collision, AA Accident Attorneys P.L.C. strongly encourages you to call our car accident lawyers at 1-800-260-2577 for a free consultation. Our highly skilled and experienced attorneys will provide you with the best legal representation and guidance that you need. Our offices are conveniently located throughout California and we conduct regular travels in the region to meet with clients.