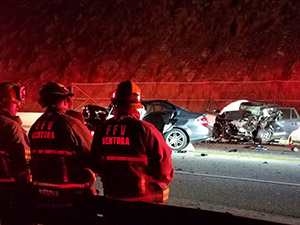 July 6th ─ 3 people are dead and two other are injured following a head-on collision on Pacific Coast Highway (PCH) just south of Mugu Rock on a remote stretch of PCH between Oxnard and Malibu Wednesday night, prompting a total shutdown of PCH. The incident occurred around 8:20 p.m. when California Highway Patrol responded to calls about a collision between a 2009 Mercedes-Benz that was traveling southbound, when for reasons unknown, it drove into the northbound lane and collided with a 2009 Hyundai Santa Fe SUV. The Ventura County Fire Department was the first on scene where they found 3 people among the wreckage that sprawled across the entire roadway. Those 3 people were pronounced dead at the scene. According to CHP, there were 4 people from Evergreen, Colorado inside the Hyundai SUV at the time of the crash: 2 adults age 63 and 81 and 2 grandchildren, a 14-year old teenage girl and an 11-year old boy. The driver of the Mercedes-Benz, a 38-year old driver from Culver City, was also pronounced dead at the scene.
The 11-year-old boy suffered minor injuries and was taken to Ventura County Medical Center for treatment. The 14-year-old girl suffered major injuries in the crash and was taken to Los Robles Medical Center where she is listed in critical condition. Both were in the rear of the SUV. The names of those killed will not be released until their families have been notified.
The investigation is ongoing but due to the remoteness of the location the California Highway Patrol is urging anyone with information or who may have witnessed this crash to call the Ventura Area CHP office at 805-662-2640.
If you or a loved one has been injured in an auto collision, AA-Accident Attorneys P.L.C. strongly encourages you to call our car accident lawyers at 1.800.260.2577 for a free consultation.
Our highly skilled and experienced attorneys will provide you with the best legal representation and guidance that you need. Our offices are conveniently located throughout California and we conduct regular travels in the region to meet with clients.