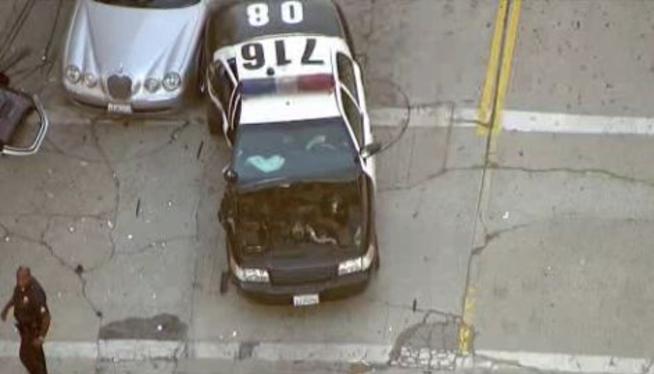 At least two Los Angeles Police Department officers were hurt Friday after their patrol car was involved in a crash.
The crash happened in West Los Angeles. The accident was reported at 6:45 p.m. on Wilshire Boulevard between Malcolm and Selby avenues, according to the police.
Ariel video from the scene shows the patrol cars' front end smashed. It also showed at least one person being taken from the scene on a stretcher.
According to officials, only two officers were hurt in the crash. Wilshire Blvd. was shut down for some time during the investigation.
The condition of the officers wasn't immediately known. Also, the names of the two injured officers were not also released. It wasn't clear what caused the crash or if any other vehicle was involved. The investigation is ongoing, according to police officials.
The crash happened just a few short hours after an off-duty Los Angeles Police Department detective died in a separate crash involving a cement truck. That accident occurred on the same street where an officer was killed in March in an accident involving another cement truck.
For a free consultation with a top accident lawyer please call AA-AccidentAttorneys at 800-260-2577.
Source: NBC Los Angeles