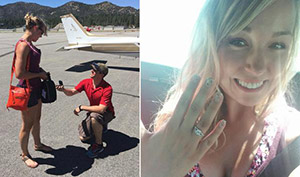 July 31st ─ 2 people were killed, 1 identified as a San Bernardino County Sheriff's deputy, after a plane crash near Big Bear Mountain late Sunday evening. The incident occurred around 10:30 p.m. when Apple Valley police were called after receiving reports that the plane was expected at the Apple Valley Airport and was delayed, according to the San Bernardino County Sheriff's Department. Authorities immediately began an aerial search of the area between the Big Bear and Apple Valley airports. Deputies discovered a vehicle belonging to one of the victim's at the airport and began a search for the missing plane. The plane, a Cessna 172 Skyhawk, was located through an on-board emergency transmitter just after 9:30 a.m. by a San Bernardino sheriff's Aerial Unit in a remote area of the Big Bear Mountains. A flight crew member was lowered to the wreckage and found 2 bodies, that of a man and a woman. The deputy who was killed was identified as Rebecca Joan Raymond, 28-years old, who joined the agency in September 2016, according to the Sheriff's Department. The man was not identified. According to a spokesman for the Federal Aviation Administration, the Cessna 172 Skyhawk crashed under unknown circumstances after departing from Big Bear City Airport.
"It's a tragic and sad day for all of us," the San Bernardino County Sheriff's Department said. "May God watch over her parents". The man's name has not been released pending notification of next of kin. A friend of Raymond has come forward to say that the unidentified man was Raymond's boyfriend and that the couple had rented a plane for the weekend to go to Big Bear to celebrate their anniversary, where he had proposed to her.
Bob Hartunian, 78-years old of Fawnskin, is a pilot who has been using the Big Bear airport for 20 years. He said one witness who saw the plane take off reported that its nose appeared to be too high, something that can lead to a stall. "There are special conditions pilots need to account for when flying in and out of the high-elevation airport, it's at 6,752 feet above sea level. We've had a lot of people go in the lake when they fail to account for those conditions, because the air is less dense due to the higher altitude a plane doesn't get as much lift as it does at sea level. Pilots also have to make the plane's fuel mix leaner. Sea-level fuel mixtures can diminish engine performance. You flood the engine, and that's it, you're done," Hartunian said.
If you or a loved one has been injured in a plane crash, AA Accident Attorneys P.L.C. strongly encourages you to call our car accident lawyers at 1-800-260-2577 for a free consultation. Our highly skilled and experienced attorneys will provide you with the best legal representation and guidance that you need. Our offices are conveniently located throughout California and we conduct regular travels in the region to meet with clients.