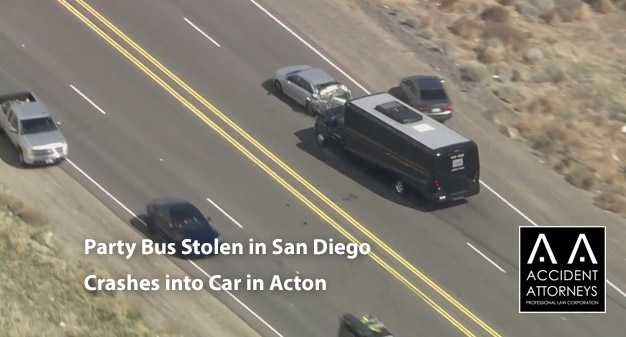 ACTON, CA (February 23, 2022) – In the middle of the day on Tuesday, a party bus stolen out of San Diego crashed into a car in Acton during police pursuit, causing injuries. The February 22 crash occurred on Pearblossom Highway.
The incident began when a suspect stole the limo party bus after its driver exited the vehicle to pick up a client in San Diego, according to the vehicle's owner.
The owner of the party bus–described as a 40-foot limo–has not been identified.
Officers began to pursue the stolen party bus at roughly 11:30 a.m. The pursuit went through the San Fernando Valley, and involved the 405 Freeway, 5 Freeway, and 14 Freeway, heading north into Acton.
On the Pearblossom Highway, the party bus smashed into a car, hitting its rear end. The party bus veered into the lanes of opposing traffic before it eventually stopped.
Responders arrived and found the person who was driving the car–described as a Hyundai–suffered injuries that were described as moderate. Her current condition is not known.
She has not been identified in reports.
Authorities arrested the suspect driver in the stolen party bus. Her identity has not yet been reported.
Investigators are continuing to work on the incident.
---
---
Hire an Accident Attorney in Acton
If you or a loved one has been injured in an auto collision, Accident Lawyer strongly encourages you to call our Acton car accident lawyers. Your experienced Car Accident Lawyer Acton will provide you with the best legal representation and guidance that you need. Our offices are conveniently located throughout California and we conduct regular travels in the region to meet with clients. Contact Car Accident Lawyer today.