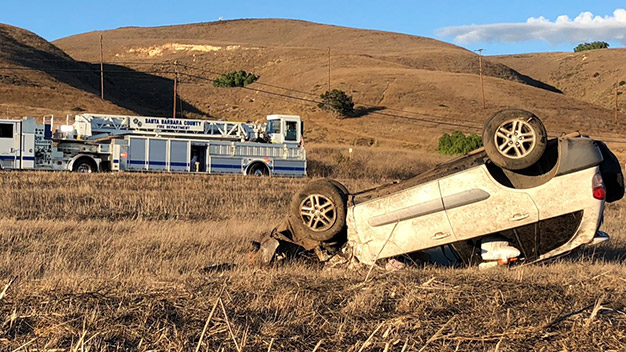 2 Injured in Crash after Police Pursuit on Highway 101 near Gaviota
Gaviota, CA – (October 1, 2018) Two people were injured Monday morning, October 1st, after a pursuit on Highway 101 in Santa Barbara County resulted in a crash, California Highway Patrol said. Santa Barbara County Fire Department issued a statement detailing that a 24-year-old woman, identified as Dinara Arevalo of Lompoc, was being chased by law enforcement officers. Arevalo was driving southbound on Highway 101 when she tried to maneuver through traffic and lost control of her vehicle. At the same time, Brett Bronstad, 60, was driving his pickup truck nearby with passenger Michael Garcia, 58, when Arevalo's car struck their vehicle, CHP said. The suspect's car eventually rolled over the center divider on the highway, while the pickup truck rolled off-road. According to CHP officials, the two Santa Barbara men were transported to a nearby hospital with minor injuries while Arevalo was not injured. Following the collision, one lane of Highway 101 was closed during investigation and cleanup for approximately an hour.
---
---
Find A Gaviota Car Accident lawyer Near You
If you or a loved one has been injured in an auto collision, AA-Accident Attorneys P.L.C. strongly encourages you to call our car accident attorneys at (888) 607-1425 for a free consultation. Our highly skilled and experienced attorneys will provide you with the best legal representation and guidance that you need. Our offices are conveniently located throughout California and we conduct regular travels in the region to meet with clients. Reach out to us directly to speak with a car accident attorney whenever you need one!